Gastronomy by the Numbers: Oakland's Genova Deli Still Rewards Those Who Wait
---
Since opening in 1926, Genova's Delicatessen has served pasta, soups and traditional deli sandwiches to residents of North Oakland's Temescal district. In the last 80 years, Temescal has evolved from an Italian-American enclave into a multiethnic neighborhood, but Genova's now has more than 1,000 customers a day grabbing a ticket from the restaurant's "Take a Number" dispenser.
A Master of Delicate and Gruff: Longtime deli owner maintains order and satisfies stomachs
Dominic De Vincenzi remembers early mornings in the 1950s, when the intersection of 51st Street and Telegraph Avenue was the heart of Oakland's Italian community.
Meet The Customers
Barbara Buckhorn, 84
Barbara Buckhorn has been a customer at Genova for over 40 years.
More Customers
Four patrons from Genova's August 25 lunch crowd.
The Deli's In the Details
Delicious sounds abound at Genova Deli.
Taste of Italy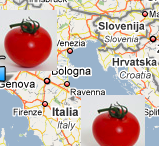 This is a blub about our map… More
How to Make An Italian Combo