Street chic: the faces of fashion at Art Murmur
Shirley Lau on October 4, 2010
Oakland's Art Murmur event on Friday night focused on art of all forms. There were storyboards of comic books. There was a fawn with a surveillance camera for a head. But aside from what could be found in the galleries, the event attracted creative individuals who chose to wear their art rather than display it on a wall.
Oakland North scoured the crowd on 23rd Street in search of the stories behind peoples' eccentric fashion choices.
Photos by Evan Wagstaff.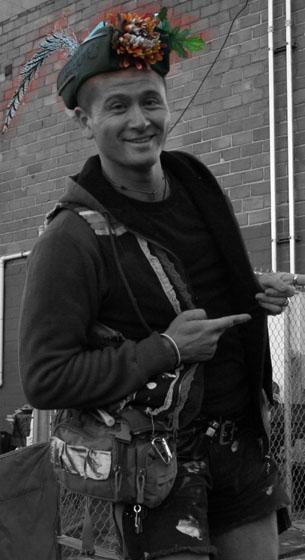 JOSEPH TIGER
32, San Francisco
"I just decided stuff's boring and I wanted to put cool stuff on and it all has meaning." The hat, a purchase for last month's Burning Man event, was glammed up with a bill from another hat, a feather (a gift from a lady friend), and a flower he made for a local artist. "Smells like a man; smells like coconut."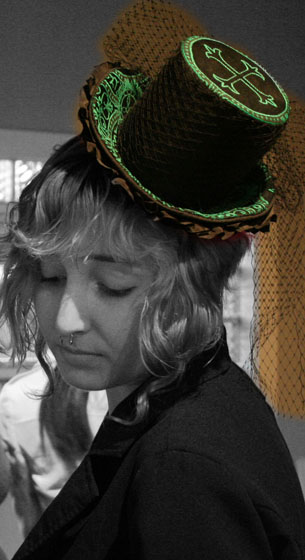 FAWN BABCOCK
22, Berkeley
Babcock was modeling the hat for friend and designer, Kelly Bennett of Bennett Millinery. "I found the fabric for it and I was like, 'Oh, it's just too cool,'" said Bennett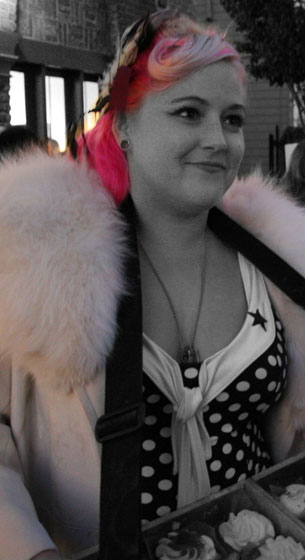 RACHAEL DEVLIN
28, Oakland
"I'm definitely always inspired by a kind of retro style—definitely always '20s, '30s, 40's. It's kind of a mash up right now." The jacket, a Sacramento thrift store purchase, and her five-minute pin-up girl hairdo complete her outfit when she's selling vegan cupcakes from her Oakland bakery, Idle Hands Baking Company.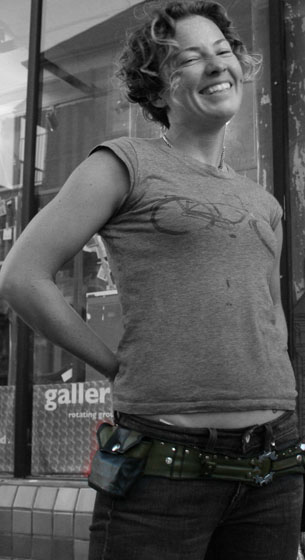 NORA DYE
30, San Francisco
"I really didn't like carrying a purse, so I wanted a way to carry my stuff with me without having it on my shoulders. I bike a lot so it's a really good way to carry stuff around." Made of scrap leather, parts of a bike cassette, and an old pair of leather pants, the hands-free purse has a space for her wallet, cell phone, and bike key.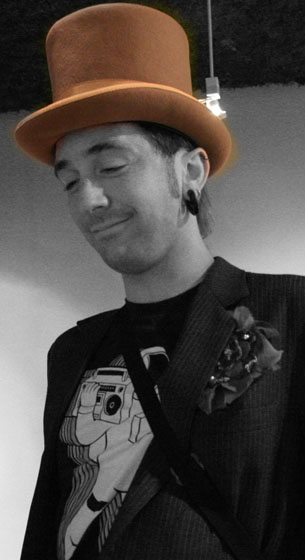 JESSE MANNING
29, Oakland
"Well, it's very tall. I love top hats." Manning buys all his hats—fedoras, cabbie hats, top hats—from the Berkeley Hat Company. This one has been part of his wardrobe for about four years, and he says he wears it often.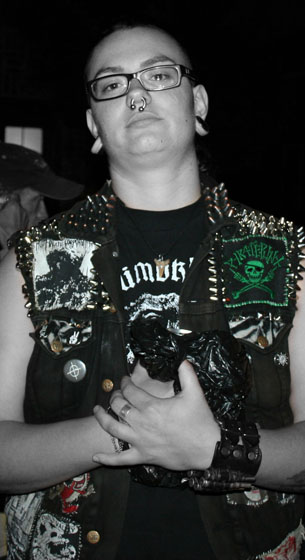 DARIUS ALEXANDER
23, Oakland
"I've been working on it for about a year. Whenever I get the money or the time, I'll add stuff to it." The vest—adorned with studs, paint and patches—is a staple in Alexander's wardrobe; he's worn it every single day since he first assembled it in order to be a part of his "crew," the Diablo Valley Pyrate Punx, a DIY underground music collective and support group.
Oakland North welcomes comments from our readers, but we ask users to keep all discussion civil and on-topic. Comments post automatically without review from our staff, but we reserve the right to delete material that is libelous, a personal attack, or spam. We request that commenters consistently use the same login name. Comments from the same user posted under multiple aliases may be deleted. Oakland North assumes no liability for comments posted to the site and no endorsement is implied; commenters are solely responsible for their own content.
Oakland North
Oakland North is an online news service produced by students at the UC Berkeley Graduate School of Journalism and covering Oakland, California. Our goals are to improve local coverage, innovate with digital media, and listen to you–about the issues that concern you and the reporting you'd like to see in your community. Please send news tips to: oaklandnorthstaff@gmail.com.